Butterfly, butterfly, gracefully you fly, hovering on the plants of my tiny garden. All flowers are best and on each you gracefully sit. Many dreamy odes for you and many ode poem examples for your whole life.
Butterflies are tiny creatures and loved by children. Imagine the time when you were kids and happily ran after them. Seeing that, some elder, most probably your mother or grandfather, shouted at you not to harm it. Indeed, those days were as wonderful as the whole thought process behind writing dreamy odes and ode poem examples on butterflies.
Capturing Dreamy Odes on Butterflies and Sharing Ode Poem Examples
The below ode (what is ode?) on butterfly narrates the importance of both the green test bed and heart's flower bed. The relevance of both has grown substantially amid the ongoing climate crisis faced by our Earth. We need more greenery and more flower beds to attract butterflies.
By reading the below mentioned unique ode poem examples, let's also take an oath to make conscious efforts to turn our homes green again so that tiny colorful butterflies can again feel that lost welcome of old times. Let's save these colorful creatures and let's give them a good scope to flourish so that the elderly once again can shout at kids, 'Don't harm them, they are fragile.'
Read Also:
Happy Birthday Butterfly | Happy Short Poems
An Ode on a Butterfly: Beautiful Ode Poem Examples to Dream Of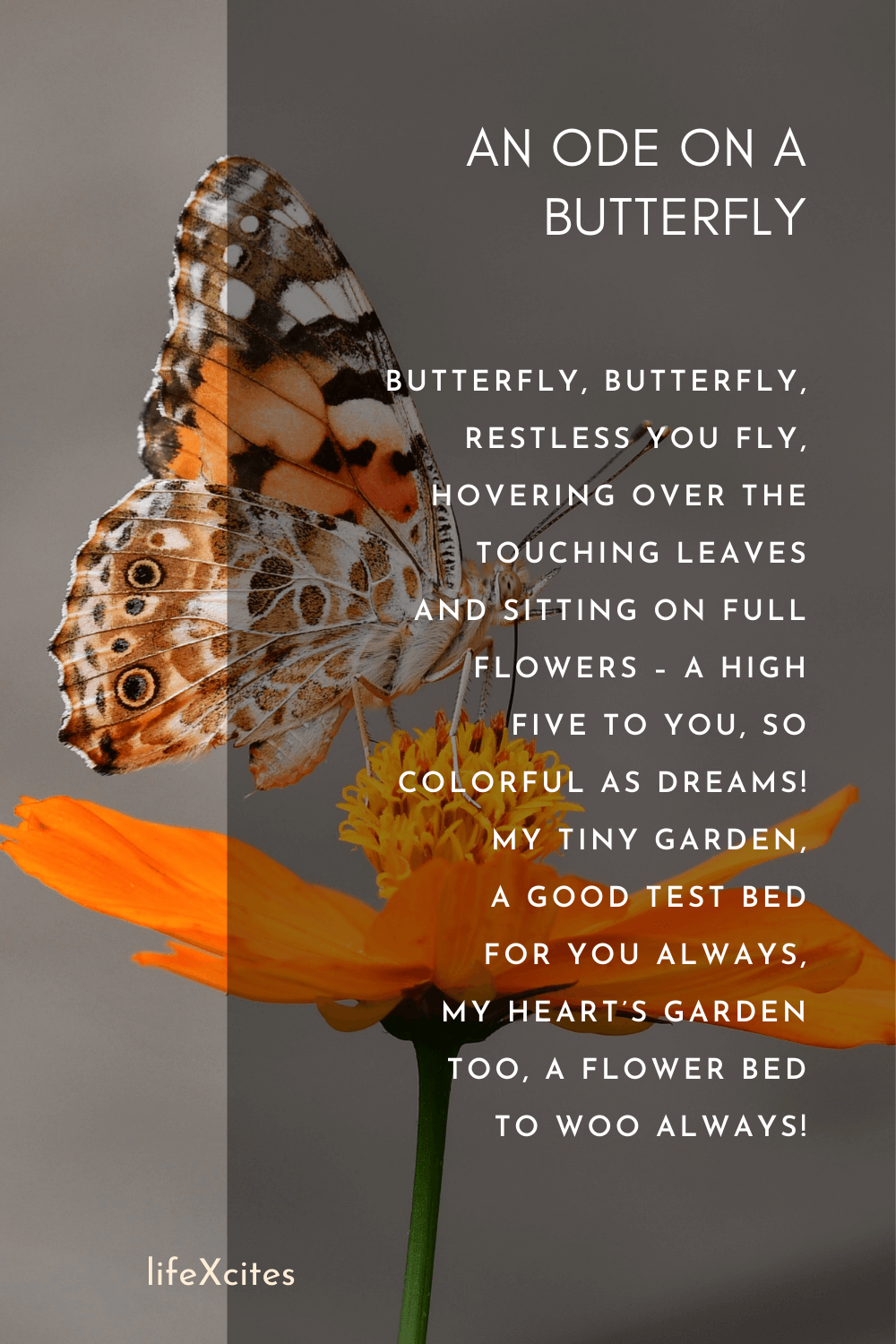 Butterfly, butterfly, restless you fly,

Hovering over the touching leaves

And sitting on full flowers – A high

Five to you, so colorful as dreams!

My tiny garden,

A good test bed

For you always,

My heart's garden

Too, a flower bed

To woo always!

You like to dance,

Flapping you wings;

You like to romance

With flowery wings!

Your colors are so precise

As though mirror images,

But without any distortions:

Pure flights, a happy rice

To write on, the verges 

Of small lakes in proportions!
Cheers to ode and ode poems examples and cheers to colorful butterflies.
Calling all auto-butterfly lovers; it's time to come home!