In this article, you are going to explore some of the best Kobe Bryant Quotes to get acquainted with his pragmatic views about life, which people often referred to as The Mamba Mentality.
Even the death can't do justice to the legends – all deaths are not equal. He went to woods to get some wood for fire, but instead made terms with the treacherous Death. Behold! There he laid still in a pool of blood, with eyes wide open as if to communicate a secret message, to be further eaten by the King of Jungle who saw a free feast – but no matter how hard the lion tried, only to see a deer in front and chased it instead. Indeed, Death has saved the last honor for him!
Hey Kobe! In hearts you were, and in intricate memories you will live forever. A tribute this is for thy name great and action even more. You were a hero who thrilled and thrived in craving hearts and the tone of death made you immortal, even when being untimely.
My heart was with you in your life and when you played on- and off-field, and it will remain so even after my death – salute to Legend Kobe Bryant, who met fate on 2020 January 26 in a helicopter crash along with his 13-year-old lovely daughter Gianna Bryant and seven more.
That time, this Kobe Bryant Crash incident shocked the entire world and still affects little known people like me (Mazhar), and I am blessed that I found the courage to write this in passion and spontaneously found good words to narrate a tiny drop of your life that influenced so many to get better at everything and take up challenges with zeal and rage and as a medium to bring out the best.
Here, I must foremost quote Kobe Bryant – 'Everything negative – pressure, challenges – is all an opportunity for me to rise.' – to testify how much gifted he was when it came to taking up challenges in true spirit. I must also mention that right before Kobe Bryant crash, even the Death must be crying too; however, the real hero of whole world would be chanting: 'We all have self-doubt. You don't deny it, but you also don't capitulate to it. You embrace it.' True to his words, he embraced the difficult untimely call of death and became immortal!
Kobe Bryant Quotes and Outlook of Life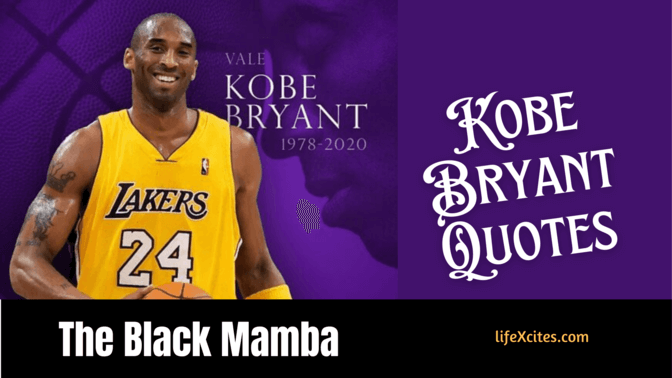 Kobe Bryant, frequently referred to as one of the elite basketball players to do justice to the game, played in the professional basketball league NBA. He retired from the game in 2016, but by then had already played for 20 seasons for Los Angeles Lakers. Kobe Bryant is also fondly known for his great Mamba Mentality, which let him refocus and channelize his energy to greatness and also became a source of inspiration for all.
They say to know a man, catch his words in good and bad times. Similarly to the mentioned saying, Kobe Bryant's life can be realistically captured through his quotes, which depict his wonderful outlook of life, taking up new challenges, accomplishments, and the importance of training hard. Kobe Bryant quotes about life are really amazing too, nourishing love, tenderness, and commitment all at the same time.
So, why wait? Read these 45+ best Kobe Bryant quotes about life and be familiar with the Mamba Mentality.
Popular Kobe Bryant Quotes…
Hi, I'm Kobe Bryant. And I have decided to take my talent to, uh… I have decided to skip college and take my talent to the NBA." — Kobe Bryant
This is the moment I accept the most challenging times will always be behind me and in front of me. — Kobe Bryant
I realized that intimidation didn't really exist if you're in the right frame of mind. — Kobe Bryant
The most important thing is you must put everybody on notice that you're here and you are for real. — Kobe Bryant
Trust me, setting things up right from the beginning will avoid a ton of tears and heartache… — Kobe Bryant
I create my own path. It was straight and narrow. I looked at it this way: you were either in my way, or out of it. — Kobe Bryant
My parents are my backbone. Still are. They're the only group that will support you if you score zero or you score 40. — Kobe Bryant
I'm reflective only in the sense that I learn to move forward. I reflect with a purpose. — Kobe Bryant
The beauty in being blessed with talent is rising above doubters to create a beautiful moment. — Kobe Bryant
A lot of leaders fail because they don't have the bravery to touch that nerve or strike that chord. — Kobe Bryant
The moment you give up, is the moment you let someone else win. — Kobe Bryant
All the training and sacrifice just flew out the window with one step that I've done millions of times! The frustration is unbearable. The anger is rage. Why the hell did this happen?!?Makes no damn sense. Now I'm supposed to come back from this and be the same player or better at 35?!? How in the world am I supposed to do that?? I have NO CLUE. Do I have the consistent will to overcome this thing? Maybe I should break out the rocking chair and reminisce on the career that was. Maybe this is how my book ends. Maybe Father Time has defeated me… Then again maybe not! — Kobe Bryant
I can't relate to lazy people. We don't speak the same language. I don't understand you. I don't want to understand you. — Kobe Bryant
If you're afraid to fail, then you're probably going to fail. — Kobe Bryant
Pain doesn't tell you when you ought to stop. Pain is the little voice in your head that tries to hold you back because it knows if you continue you will change. — Kobe Bryant
Use your success, wealth and influence to put them in the best position to realize their own dreams and find their true purpose. — Kobe Bryant
If you want to be great at something, there's a choice you have to make. What I mean by that is, there are inherent sacrifices that come along with that. Family time, hanging out with friends, being a great friend, being a great son, nephew, whatever the case may be. — Kobe Bryant
My brain . . . it cannot process failure. It will not process failure. Because if I sit there and have to face myself and tell myself, 'You're a failure' . . . I think that's almost worse than death. — Kobe Bryant
We can always kind of be average and do what's normal. I'm not in this to do what's normal. — Kobe Bryant
I'm extremely willful to win, and I respond to challenges. Scoring titles and stuff like that… it sounds, well, I don't care how it sounds – to me, scoring comes easy. It's not a challenge to me to win the scoring title, because I know I can. — Kobe Bryant
Haters are a good problem to have. Nobody hates the good ones. They hate the great ones. — Kobe Bryant
I'm not the most patient of people. — Kobe Bryant
It's the one thing you can control. You are responsible for how people remember you—or don't. So don't take it lightly. — Kobe Bryant
I don't want to be the next Michael Jordan, I only want to be Kobe Bryant. — Kobe Bryant
Are you willing to push the right buttons even if it means being perceived as the villain? … I'd rather be perceived as a winner than a good teammate. I wish they both went hand in hand all the time but that's just not reality… I have nothing in common with lazy people who blame others for their lack of success. — Kobe Bryant
I just got one more than Shaq. So you can take that to the bank. — Kobe Bryant
Better learn not to talk to me. You shake the tree, a leopard's gonna fall out. — Kobe Bryant
I have self-doubt. I have insecurity. I have fear of failure. I have nights when I show up at the arena and I'm like, 'My back hurts, my feet hurt, my knees hurt. I don't have it. I just want to chill.' — Kobe Bryant
It's an intentional pass to oneself, so it's an assist. That way people can't say all I do is shoot. — Kobe Bryant
Take it all in. Sit back and watch and listen and hear all the hate that's being thrown at us and remember every person that's kicking you when you're down, because next year it ain't gonna be this way. Appreciate it now. Let it sit in now, because revenge is sweet and it's quick. — Kobe Bryant
The Black Mamba collection of watches is me: It is my alter ego, so to speak. As I mentioned before, it is sharp, cutting edge and sleek which are characteristics I try to apply when I'm out there on the basketball court. — Kobe Bryant
I'm chasing perfection. — Kobe Bryant
Winning takes precedence over all. There's no gray area. No almosts. — Kobe Bryant
Once you know what failure feels like, determination chases success. — Kobe Bryant
The most important thing is to try and inspire people so that they can be great in whatever they want to do. — Kobe Bryant
I remember feeling the silence. I remember feeling the fear. I'm like, 'This could be a wrap.' And that's what the silence was. It was like, 'This could really be a wrap for you. — Kobe Bryant
What people see on court is another side of me; it's not me. — Kobe Bryant
I focus on one thing and one thing only – that's trying to win as many championships as I can. — Kobe Bryant
One thing you gotta know about me is I have absolutely no filter. I have no problem saying what the hell I think of someone. — Kobe Bryant
Everything negative – pressure, challenges – is all an opportunity for me to rise. — Kobe Bryant
People just don't understand how obsessed I am with winning. — Kobe Bryant
Everyone looks at your watch and it represents who you are, your values and your personal style. — Kobe Bryant
If I panic, everyone else panics. — Kobe Bryant
You want me to own a team and deal with these rich, spoiled stubborn athletes, and try to get them to perform? No thank you. — Kobe Bryant
Christmas morning, I'm going to open presents with my kids. I'm going to take pictures of them opening the presents. Then I'm going to come to the Staples Center and get ready to work. — Kobe Bryant
It's different from being 21 and you think there's endless amount of opportunities. At 33, the ending is much, much closer. — Kobe Bryant
Sports are such a great teacher. I think of everything they've taught me: camaraderie, humility, how to resolve differences. — Kobe Bryant