Suicide is equal to death and poetry about suicide is equal to getting motivation to live life again.
Suicidal thoughts are roots that further ramify, which may lead to bringing harm onto one's own self. There are various factors behind it, which are not just limited to mental disorders, physical disorders, substance use disorders, relationship problems, financial difficulties, and harassment.
There are many ways to prevent it and reading good literature is among one of them. Reading a lot of poetry is also a wonderful way to become occupied most of the time and keep bad suicide thoughts at bay!
In this regard, LifeXcites' unique poetry about suicide comes to the rescue of such people who are battling such suicidal thoughts.
Must Read: A Blend of Mask for Sadness and Lies: A Sad Poem to Read
A Misguided Letter and Poetry About Suicide
The following poem is quite strange?
Are you ready, because you have to be!
What will you do with a misguided letter? Any thoughts?
More so, how would you react when you are immersed in the sadness of a person unknown?
In the real world, you may not bother to even stop to give a coin to a beggar, let alone making a real stop to listen to someone's sad story, while running late to work. However, the situation is really different when you are actually reading a letter not addressed to you.
Obviously, you want to know the unknown, but at the end you get a heartache and a split. You are not comfortable and go to bed thinking about it. The whole letter will be within you, making you uncomfortable and anxious for days to come.
Must Read: The Story of a Lost Bride and Her Insane Lover: A Sad Poem
Now enjoy poetry about suicide, and we also request you to spread good words if you like it.
There is something nice about sharing;
Sharing good things, sharing and caring!
Read on now:
A Misguided Letter from France! Part A – Poetry About Suicide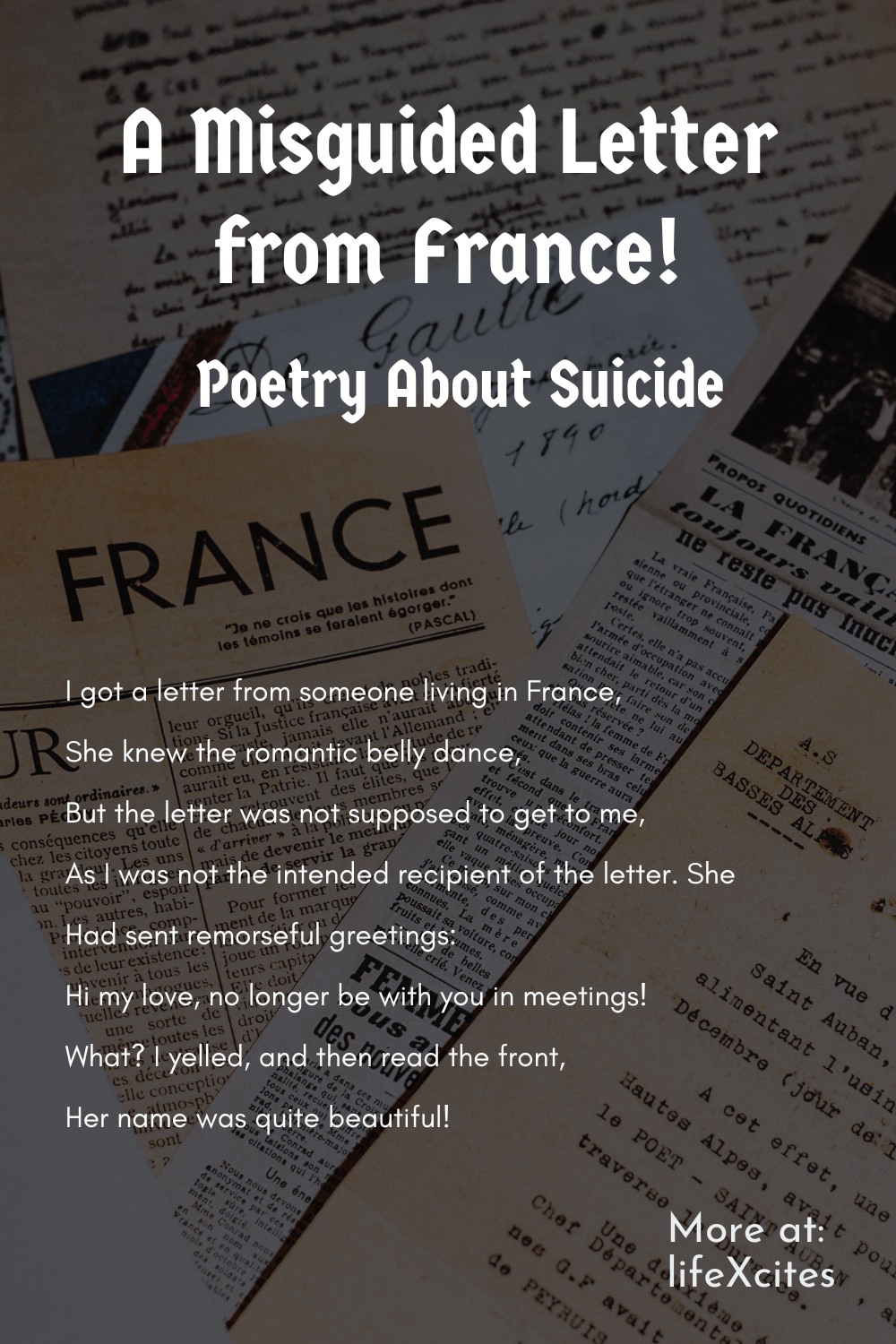 I got a letter from someone living in France,

She knew the romantic belly dance,

But the letter was not supposed to get to me,

As I was not the intended recipient of the letter. She

Had sent remorseful greetings:

Hi my love, no longer be with you in meetings!

What? I yelled, and then read the front,

Her name was quite beautiful!
You are introduced to someone strange and unexpected. How would you react (tell us in the comment section).
Must Read: Suicide! Poetry Suicide! But Never Suicide: Part 1
A Misguided Letter from France! Part B – Poetry About Suicide
Her name was quite beautiful,

I repeat, it was quite beautiful,

Unlike any names I had interacted with

So far.

How far

This will go, I wondered,

Remorseful greetings,

No good meetings,

I wondered what she was going through

At the time of writing this misguided letter!

Oh God, I should not read further,

Let me drop it back to the post office.

However, my curiosity rang,

Lo, my heart sang:

There is no harm in reading a name,

There is no harm in knowing an unknown name!

And her name was indeed lovely,

Céline. Yes, you heard it right dear,

Her name was Céline,

The meaning of the name being

Heavenly!

Oh dear, what have I done,

It's a pity to know a misguided name,

It is sin to read a misguided letter. Tame

Your desires

Or there will be fires

In unknown territories,

They are mysteries!
We know you want to know more about what happened, but this poetry about suicide in still in making. So, do check for Part 2 of this post. We promise, you will see this piece of poetry about suicide sooner than expected.
Also, while we are back with Part 2, you can also check out other pieces of sad poem: Poetry on Suicide, Suicidal Thoughts and the Scope of Satan and Suicide! Poetry on Suicide!
Like before, we conclude this story with the following call/request:
Sad poem was my friend,

It touched ice and turned it into fire;

Satan will be there always,

Never even think of giving ways to suicide!