Supercute Kissi-Pussi-Poo loves to write kindergarten poems for kids. Kids also enjoy reading his short happy poems aloud in their classes and during exciting kid parties.
Why Kindergarten Poems?

Many would ask why kindergarten poems are great for kids? Well, isn't the answer obvious!
They are supereasy to read and learn, giving kids ultimate happy goals and ample happy memories! Few other reasons include simplicity, rhyming words, easy on the mind and great for the smile, etc.
Don't forget to read our exclusive Son and Dad Part 1, Part 2, and Part3 happy poems.
Why LifeXcites for Kids Literature and Kindergarten Poems?
Looking at the internet resources, one would find that almost all sites are providing similar content.
The question is why would they do it?
Answer is because generating content for kids takes a huge effort and loads of unlearning and understanding what kids need, which is certainly not easy.
At LifeXcites, originality is the key. Moreover, the content has been ground tested and the response is amazing. My own kid loves to recite short poems on happiness and would sit with me while I write.
Yes, you heard it right? Most of the poems have been written in the presence of my kid and are based on his little questions, good anxieties, and happy vibes shared from time to time. Thus, readers would find a little charm in every piece of happy short poem provided on LifeXcites. Furthermore, adults will also love them for their simplicity and inherent melody. 
Two great examples are given below from our pin (do join us on our pinterest for an amazing journey of reading and dreaming!). Just check them out and find out for sure!
https://in.pinterest.com/pin/1072278992504231922/
https://in.pinterest.com/pin/1072278992504241228/
These poems are taken from the post Why Happy Short Poems are a Treat for Kids?, A Happy Short Poem for a Happy Child and A Happy Short Poem on a Kite, respectively.
Kissi-Pussi-Poo, Kids, Nursery Rhymes, and Kindergarten Poems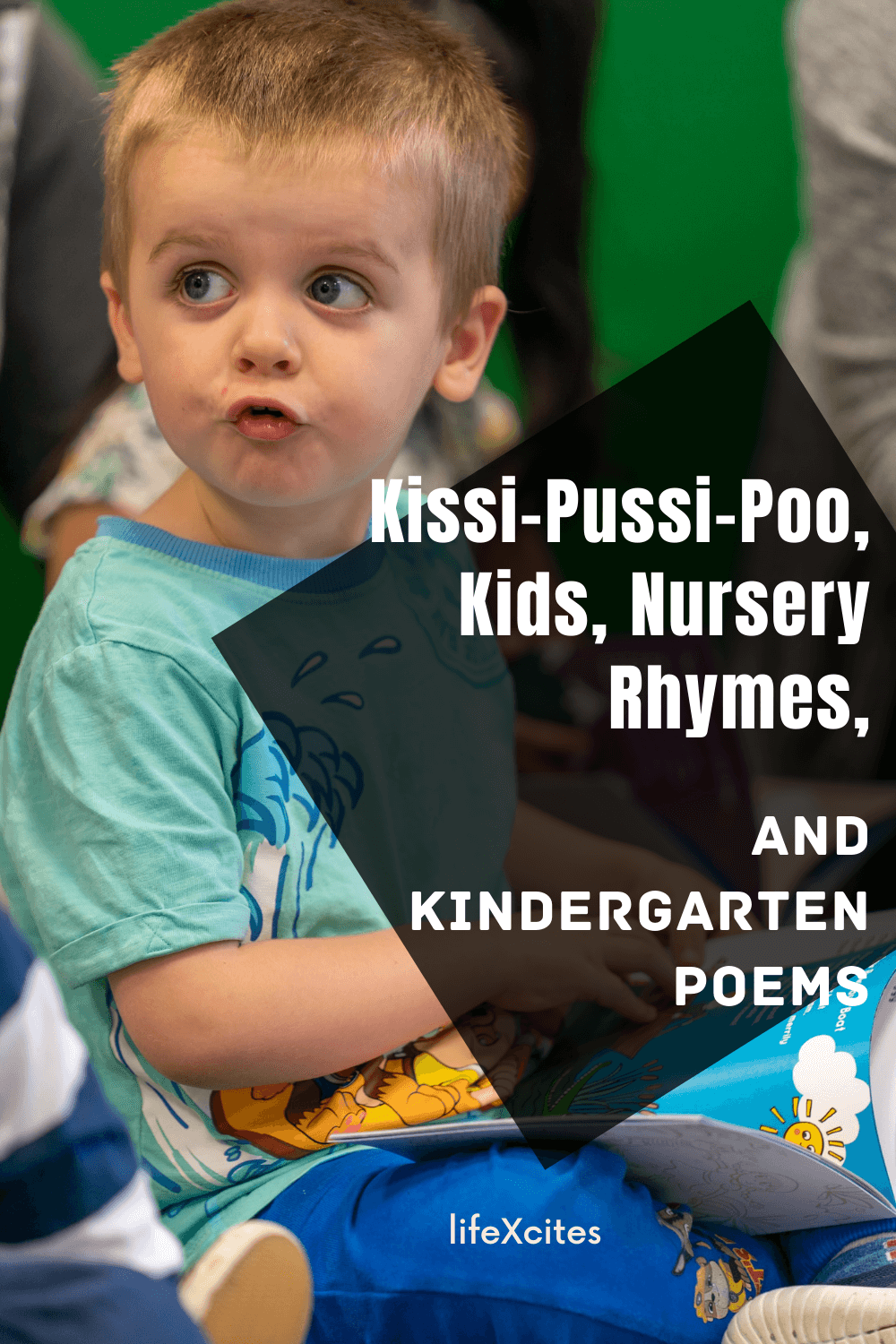 Supercute and superagile Kissi-Pussi-Poo is the throbbing heart of LifeXcites. The whole motive behind the creation of the fictional character Kissi-Pussi-Poo was to woo kids of all ages as well as adults. (Amazing Kissi-Pussi-Poo has a whole wonderful story behind it. We will share the journey of Kissi-Pussi-Poo, maybe, in near future!)
Given a chance, everyone has a child willing to come out!
Given a chance, everyone would like to read poem and shout:
Ho, ho, ho, merry, merry, merry,
Behold, happy poems are cherry!
Moreover, for those who have read all poems linked to Kissi-Pussi-Poo, they would already know a secret!
Boom! Kissi-Pussi-Poo only writes four-line poetry!
Smiley, smiley, smiley, smile,

Kissi-Pussi-Poo makes a poem file!
Below are given six happy short poems (checkout) written by Kissi-Pussi-Poo to fall in love with!
(1) Enjoying an Ice-cream – Kindergarten Poems
Kissi-Poo screams

In his good dreams:

Hurray! Hurray!

Colorful ice-creams!
(2) Shining While Singing Happy Rhymes – Kindergarten Poems
Kissi-Pussi-Poo shines

When singing happy rhymes,

On more to go

In a happy flow!
(3) Keep Earth Green – Kindergarten Poems
My Earth is green,

Generations in teen

Time to be climate conscious,

Kissi-Pussi-Poo sounds anxious!
(4) Earth Green, Happy Halloween – Kindergarten Poems
Green, green,

Happy Halloween,

Kissi-Poo draws

The Earth is green!
(5) Ring-O-Road, Car-He-Rode – Kindergarten Poems
Ring on the road,

Car on auto mode:

Sings Kissi-Poo,

Who drives too!
(6) Kissi-Pussi-Poo Eats a Mango – Kindergarten Poems
Kissi-Pussi-Poo

Eats a mango,

Peel in the hand

And juice to flow!
Cheers to Kissi-Pussi-Poo on a mission to woo!