'Jack, what are you doing?' the mother checked on his kid. 'You know mother, happy short poems are a treat for kids, so I'm reading them.'
Kids are fun to watch and what best can be for them than reading happy short poems that are not only unique but also echo of some morals too. This way, kids can be groomed in a nice and easy manner, with the goal that they be given ample happy moments to cherish even during their little dreams.
The Scope of LifeXcites Considering Happy Short Poems
While the whole internet is replete with websites that are providing similar refurbished content in different decorated plates, LifeXcites takes pride in providing exclusive and original content for kids of all ages, with a focus to influence them with consistent happiness and happy imaginations.
Here, kids will be so happy to read standalone happy short poems or unique and best four-line short happy poems written by none other than supercute Kissi-Pussi-Poo.
Below, we are providing three best poems to influence kids in all good ways possible. Adults can read them out for kids and in the process engage with their kids. These short poems exploring happy moments can also be incorporated into classroom teaching with due credit.
The Tiger and the Mosquito: A Happy Short Poetic Story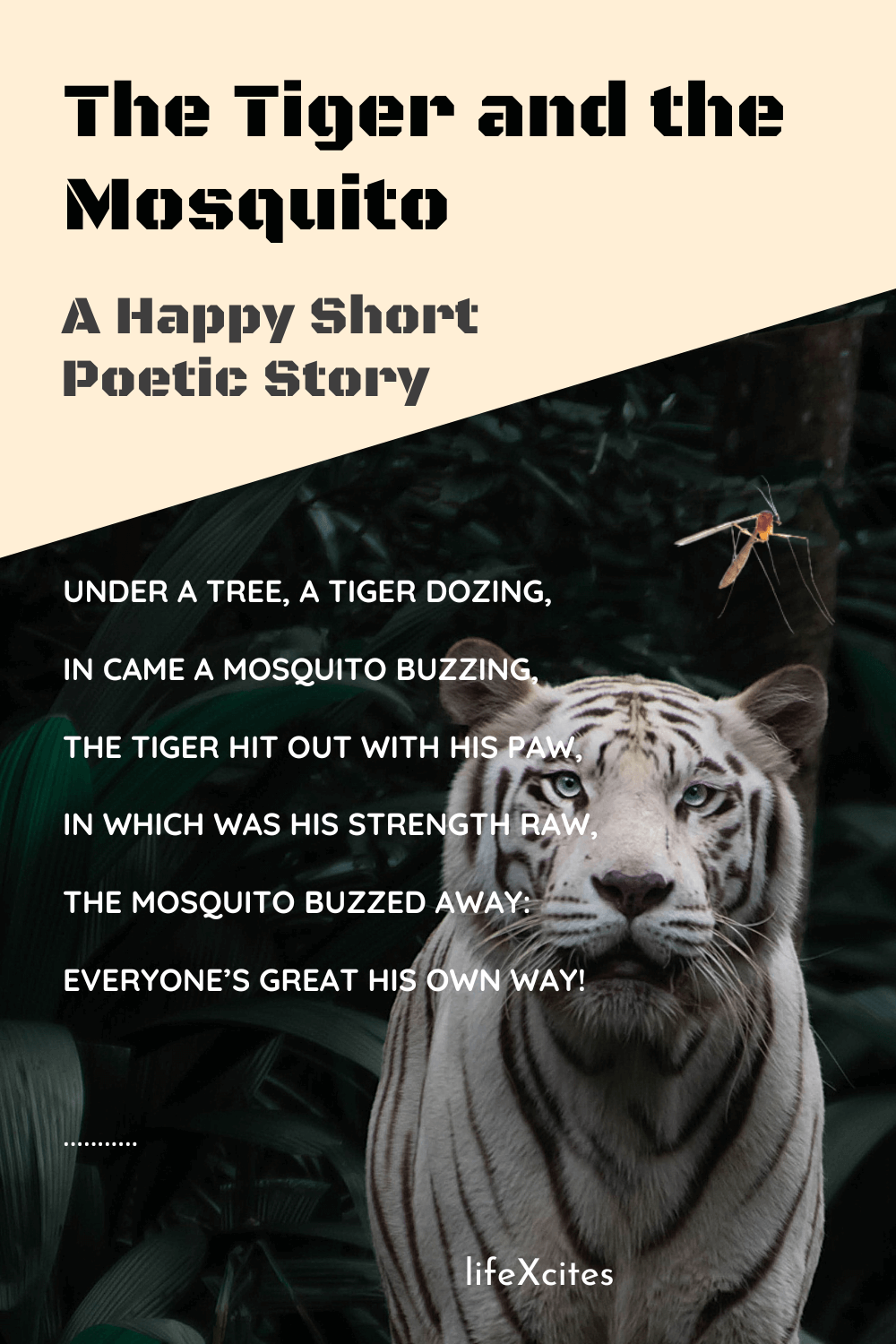 Under a tree, a tiger dozing,

In came a mosquito buzzing,

The tiger hit out with his paw,

In which was his strength raw,

The mosquito buzzed away:

Everyone's great his own way!
A Happy Short Poem for a Happy Child
A happy child am I,

Why? Why? Why?

I sing and play and dance,

I draw when get a chance!
A Happy Short Poem on a Kite
The kite goes up

High and high,

A colorful tail

Wiggling high!

Pondering high

A joyful ride;

The string to pull

Soars with pride!
LifeXcites strives to bring more happy short poems for bright kids across the globe to fall in love with. So, continue watching this space.