Before proceeding any further, we heartily thank all our readers for hopeful indulgence in celebrating the Valentine spirit the entire week through Valentine Day Poetry, wherein all days were merited with equal fervor.
Day 8: Valentine's Day
Just to recall, Valentine's Day took an extremely unpleasant way to become the day it is known today, i.e. a romantic day for celebration and singing for lovers across the world. But, now, here we are.
It has become a global phenomenon, and certainly does not require blood and beheading as proclaimed by history, rather all it needs are good gestures, candies, jewelry marked with 'Be My Valentine,' windows decorated with colorful banners, and so on. 
'Love does not recognize boundaries and so does Valentine Day Poetry', which marks the conclusion of our Valentine special series The Twilight Saga: Valentine.
The Story to Remember Forever
She looked at him soulfully. He ensured her a gala time throughout the week and now cometh the hard time to yell 'commitment' and say 'Yes, I want to spend the rest of my life though pain and happiness with you.'
They both sat on the opposite sides of the table in their hotel suite. A cold wave shivered the entire city, but inside they were snug, thanks to the pretty little fireplace.
He asked for her hand. She felt nervous. She had never been alone with a man in her entire life. She looked around as if someone was looking at her and then the fire.
'It's ok. You don't need to be afraid.'
Reluctantly, she raised her hand.
He held her hand and slowly came to her side, never breaking eye contact. He sat beside her, still looking into her eyes. She wanted to turn her head in a different direction, but something tightly held her, and a realization crept in that they had a good chemistry and knew each other well enough. Of course, they have been seeing each other since the last two years and both loved good literature and 'Rethinking Your Life with Happy Short Poems' was their favorite poetry series exclusively available at lifeXcites!
Read also Valentine's Day Song for Boys – Valentine Day Poetry
Valentine's Day – Valentine Day Poetry – The Ultimate Proposal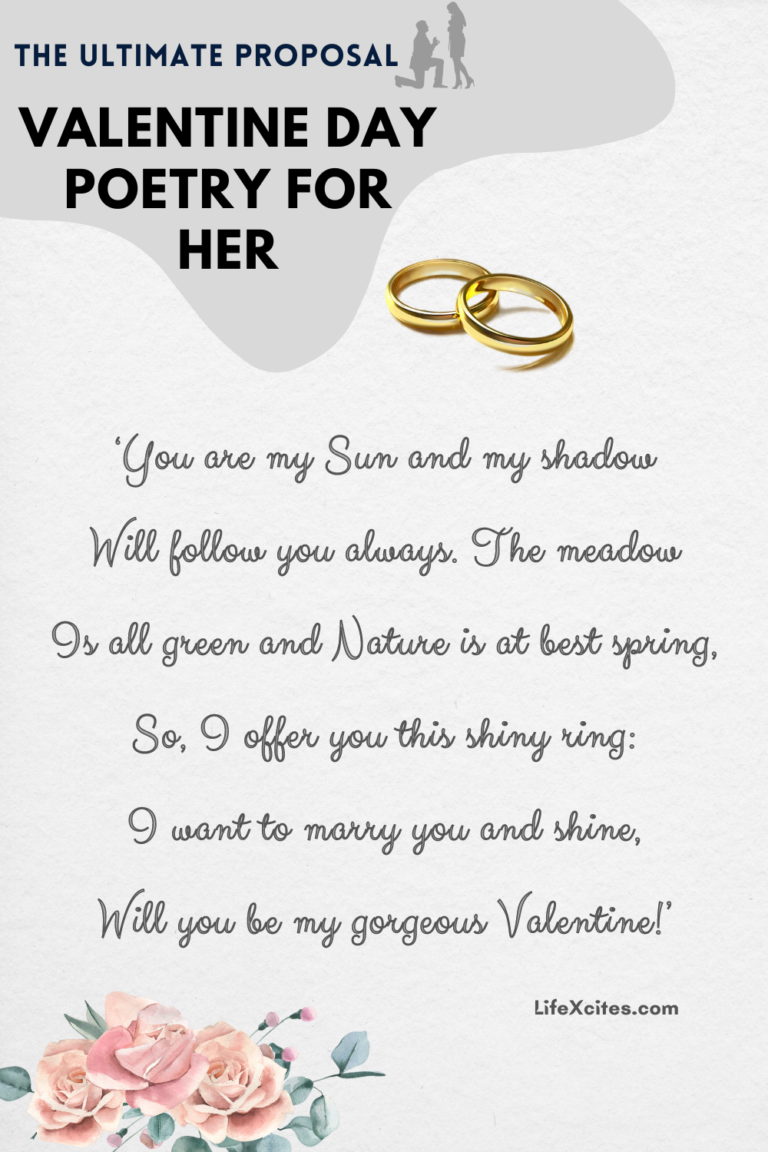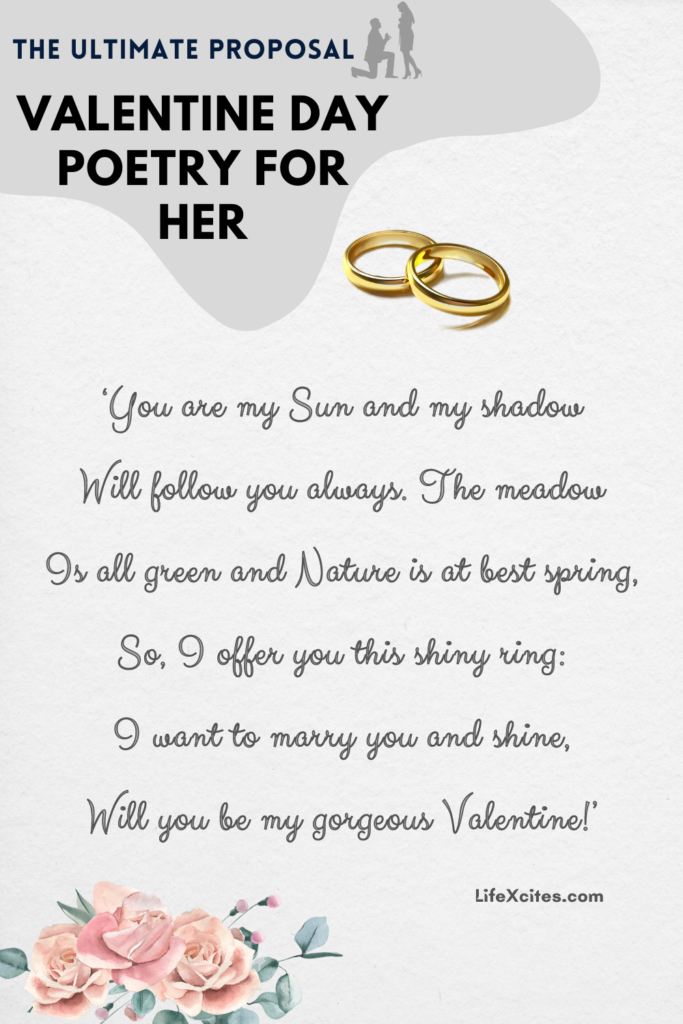 Valentine Day Poetry for Her
She gazed him soulfully,

Her hand in his willfully

Given. He gave her a tight hug,

And then pressed his lips onto hers, a snug

Kiss indeed.

'All we need

Is time together,' he said,

Giving her a rose dark red.

'We couldn't have romantic dinners,

But that hardly matters,

You made all worst moments better,

To you a chocolate and a love letter!'

'Your heart is red, so is mine;

Let's enjoy this fine wine;

A beach is an extension of sea,

So are you, the flavor of best tea;

I need you in my life; I proclaim,

There is no guilt, nor shame;

Put your hand on my heart,

Tell me what you think of my heart.

It beats hard and fast,

It pumps blood that won't stop

At anything, but you,

For no one, by you!'

'I love you, my sweetheart,

My love's sublime, not an old fart;

I am not perfect like you,

I am not lettered like you,

I am not the best in the art,

Your life's rich and mine a cart,

But indeed, I renounce all luxuries worldly

For you, and this heart will beat beautifully

Forever in your love,

I breath for your hub!'

'You are my Sun and my shadow

Will follow you always. The meadow

Is all green and Nature is at best spring,

So, I offer you this shiny ring:

I want to marry you and shine,

Will you be my gorgeous Valentine!' 
Love and be loved…and the two hearts met and had a merry time together, exchanging roses, proposals, chocolates, teddies, promises, hugs, kisses, and last but not least, marital rings.
Life is a Long Beautiful Beach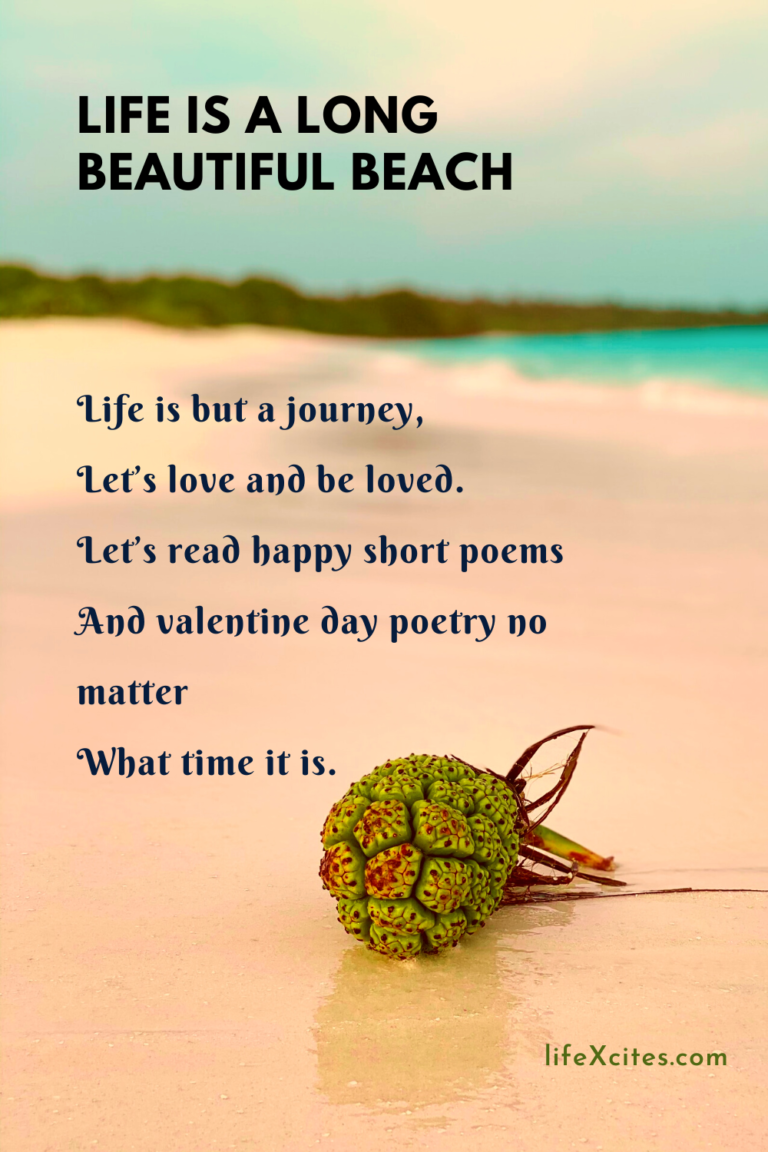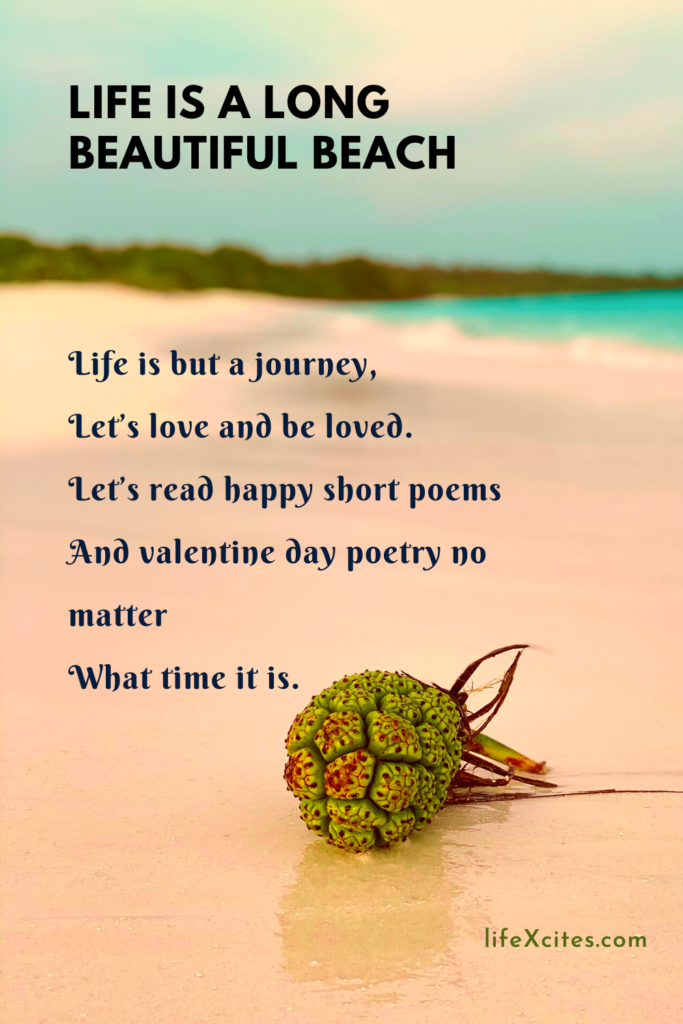 Life is but a journey,
Let's love and be loved.
Let's read happy short poems
And valentine day poetry no matter
What time it is.

 

Just sit on a beautiful beach,
Holding hands and
Soaking crackling waves;
Pass a passionate kiss,
Admiring each other,
For true love is finding
Each other in both happiness and grief,
Accepting short comings and pushing strengths.
Just like vast sea,
Together, just reach, just reach,
Life a long beautiful beach.
Best of luck, all lovers! The journey of happy Valentine Day Poetry and Rethinking Your Life with Happy Short Poems continues.