It is not The Cabin in the Woods, but a cabin on the mountain, and I sit with sadness and read a sad poem to find some motivation!
A Cabin to Write on Happiness or a Sad Poem Untold
You hear the word 'cabin' and you start thinking about it in terms of a small structure made of bricks and wood. There may also be a chimney, especially when the cabin is on a snowy mountain. Also, people find a cabin for themselves for many reasons, and we certainly don't want to explore it.
Come on, it's personal! Do you think otherwise?
However, there is so much more to a cabin on the mountain than to think of just wood and bricks. The mechanism leading to the cabin is based on perspective and sometimes that needs retooling.
In other words, a cabin is indeed remarkable due to its setting. There is something unusual about it, beyond just a small room with a small fire, which can only be felt once you are there, soaking the glimpses and heat coming from the fireplace.
The remoteness is a wonderful aspect of a cabin. The isolation, the bewildering silence, and seclusion make an ever-lasting impression. Imaginations will reach out to different points in different directions to influence you in all good ways and also, maybe, to haunt you!
Read also: Love in a Cabin on the Mountain: Finest Ode Poem Examples ('Many compliments to the photographer who was able to take such a beautiful picture of a cabin overlooking pristine snowy mountain tops and coniferous forest. The snow all around the cabin looks tremendous too. Many high praises for the photograph again.')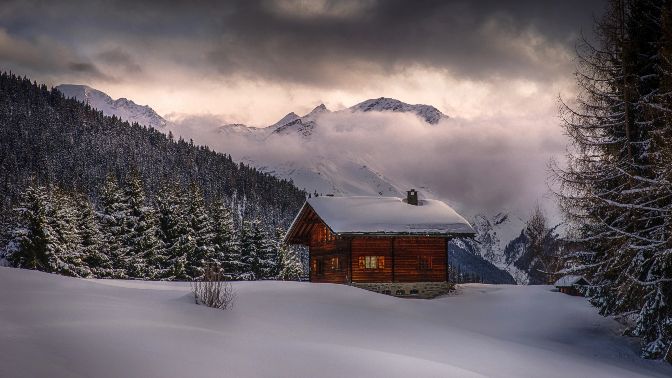 (Photo by Wave Faber (Getty Images) available at https://longreads.com)
Now, it is time to read a sad poem.
Before reading checkout: 5 Best Pieces of Sad Poem to Read and Share
I Dug a Grave of a Bird Near My Cabin! – A Sad Poem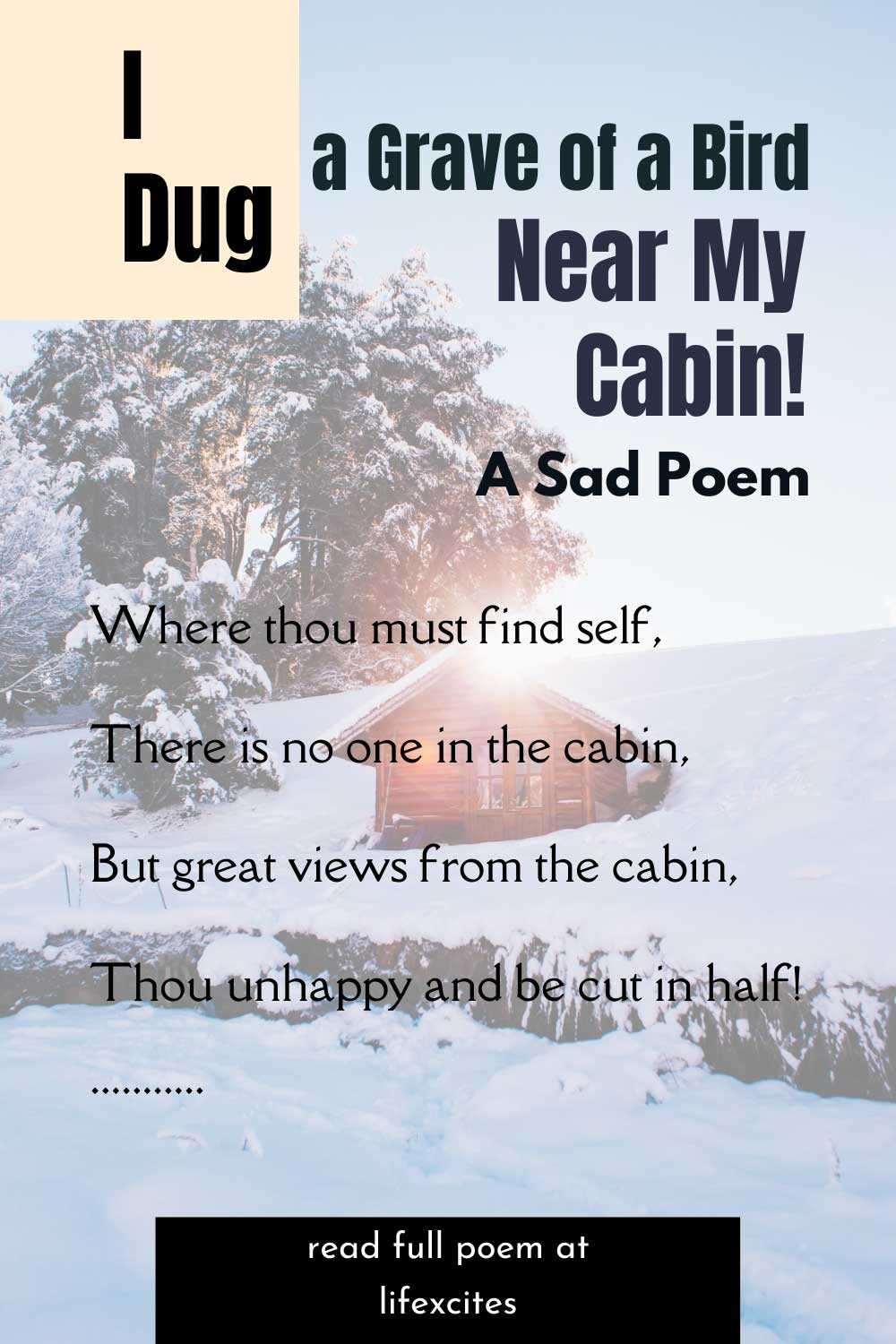 (You booked a cabin on the mountain to enjoy remoteness and have some cool self-moments. However, you saw a dead bird on the sofa next to the cosy fire upon entering. What would be your reaction? Find out and also comment!)
Where thou must find self,

There is no one in the cabin,

But great views from the cabin,

Thou unhappy and be cut in half!

There are patches of smoky clouds,

And there is smoke from the chimney too,

Where to go with pain too,

Even the clouds are lost souls!

Thou found a cabin to relax by the fire,

But instead found a dead bird

On the sofa where thou were to find…

To find some sleep by the small fire!

Thou took the bird out,

Dug a hole and buried it,

The heaven watching it,

Called the owner to talk about!

Thou must not tinker with time,

Thou must not cut the rhyme,

Clouds now all around, and the time

Lost, clock thy best friend and wine!

However, the stains of blood will remain,

The stains on thy sleeve,

Not sure what to believe,

Reminding again poor bird's dying pain!

Now thou some part must rest in the small grave,

There are sounds of snow wolfs

Thou must confine in warm wools,

Time to nod thy head and another wine to have!
Also checkout: Alone When You Grieve and a Sad Poem to Read
We hope you liked this sad poem post. Don't also forget to read the post about an ode on the cabin too. Just to tell you, both are interconnected in many ways, which you would be able to cherish for the rest of your lives.