This is the second part of the kindergarten poems 'Mother Wants to Learn Computer: Kindergarten Poems' and it is dedicated to all mothers.
Mothers are special and they deserve to be treated with love and affection. This Mother's Day, we try to motivate all mothers to enjoy learning computers with their kids.
Mothers and Their Kids – Kindergarten Poems
Mothers are special,

Mothers are special,

Their kids are special,

Their ways are special!
Happy Mother's Day to all wonderful and gorgeous mothers of the Earth!
Read Also: A Happy Poem on Son and Dad is a Great Read – Part 1
Time is Always Right: Yes to Kindergarten Poems!
Aging does have an effect on the learning capabilities of the adults who are busy supporting their lives and those they love; however, with a little motivation, the tide can be turned and new skills can be acquired slowly and steadily.
Why Mothers Should Learn Computers
Learning together is fun, let home computers run!
Yes! With technology touching our lives in so many different ways, it is paramount that mothers should also put efforts to learn computers.
Below are given 4 kindergarten poems that mothers can read and share and find motivation from. These happy kindergarten poems are ideal for kids too.
Read Also: Why Kissi-Pussi-Poo Loves to Write Kindergarten Poems?
So, again, happy Mother's Day and it's time to enjoy kindergarten poems.
Good Lady and a Computer – Kindergarten Poems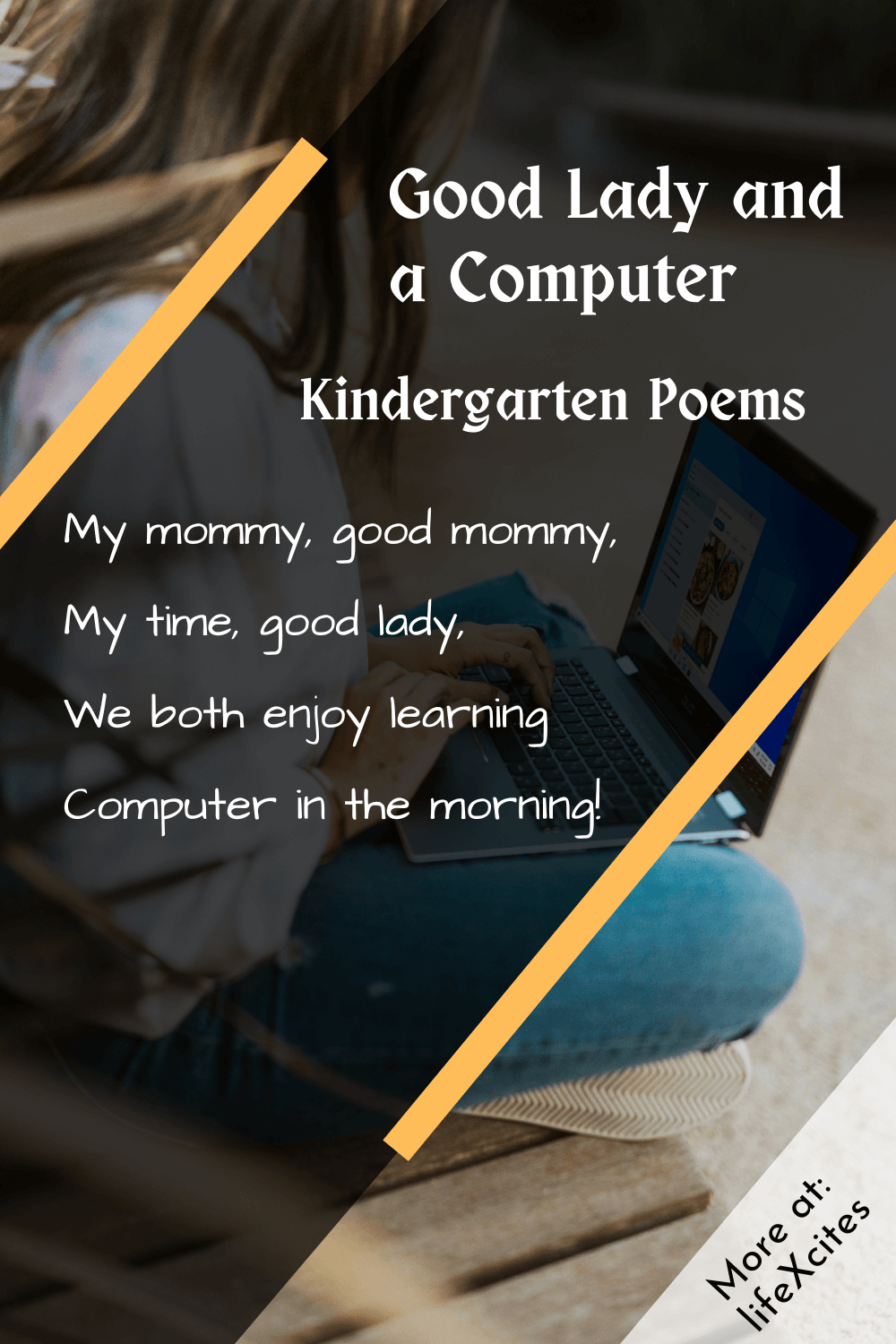 My mommy, good mommy,

My time, good lady,

We both enjoy learning

Computer in the morning!
Learning Computer – Kindergarten Poems
A computer

To play video games,

Word, Excel, PowerPoint,

And so many names!
A Computer to Learn – Kindergarten Poems
Watching movies and cartoon,

A rocket flying to the moon,

There is so much more to do;

Computer wallpaper reading how you do?
Mother in London, Computer, and Job – Kindergarten Poems
Mother in London,

For her special job,

I enjoy a computer

While she's at job!
Hope you liked all the kindergarten poems and also found some motivation to enhance computer skills.
We will be back with more short happy kindergarten poems to keep kids engaged and ever-smiling!