Finest ode poem examples to read, love in a cabin on the mountain to seed; there are emotions to restore and fan, the sweet lady in a white wedding dress and a suited man; what dost desire love and fire, the life sitting on a thin wire!
An ode gives wings to the imagination and reflects the sweetest aspects. There is motivation to be found in terms of exploring the beauty of imagination so sweet and tender. And then, the heart rejoices and soaks in the rain of joyous moments.
Cabin and Songs: A Short Happy Poem
(The short poem below describes a cabin in a few words.)
A small cabin to sit and a fire to make some heat,

A small window to glance and some snacks to eat;

O the sweet lady tenders with her long thin fingers,

Many melodious songs to enjoy of many famous singers!
Why an Ode on Love in a Cabin on the Mountain?
The idea of hitting an ode came across when I saw a beautiful picture while surfing the internet.
Many compliments to the photographer who was able to take such a beautiful picture of a cabin overlooking pristine snowy mountain tops and coniferous forest. The snow all around the cabin looks tremendous too. Many high praises for the photograph again.
Such a beautiful picture and lo, my heart started to melt, good cool emotions so I felt; an ode to write I had dreamt of many years ago, an ode to reality just to satisfy my ego!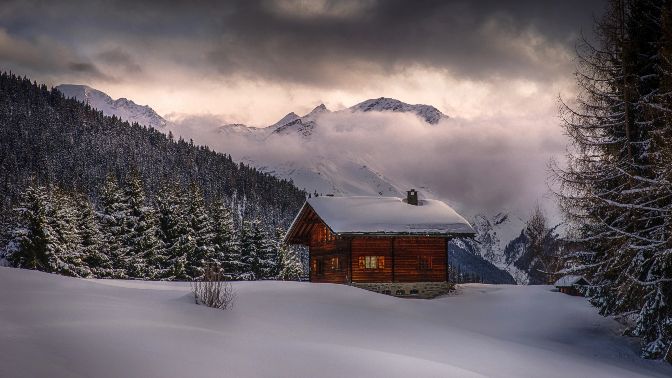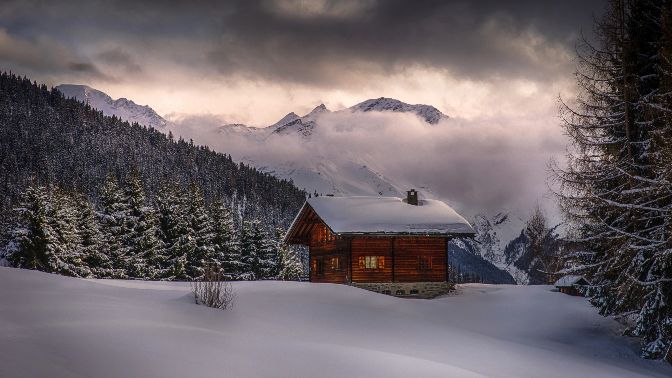 (Photo by Wave Faber (Getty Images) available at https://longreads.com)
How to Write an Ode – A Tip
By nature, ode poems are captivating. It's all about an inspiring heart, because when you are inspired, you tend to write with your heart, and when you like something with an involved heart, the chances are whatever that comes on the piece of paper is going to be awesome.
There is a process, and all you need is to express what you love. When there is love involved, the chances are others are going to like your ode poem examples too. Keep reading good stuff and adore good pictures and think about them.
When you do good things over a period of time, it becomes your habit and then, you will realize whatever comes out, it will be good in all good ways. You just need enough motivation to do it for a long time. How long, it depends on you! Happy writing ode poem examples.
Also, if you have written an ode, please do share in the comment section and ensure correct spellings. We take our readers' comments seriously and if there is merit in your ode (no copy and paste please), we will publish it on our website under your name.
Must Read: An Ode to Traveling in a Bus: Real Ode Poem Examples: Part 1
Now enjoy one of the finest ode poems examples.
An Ode to Fearless Love: Ode Poems Examples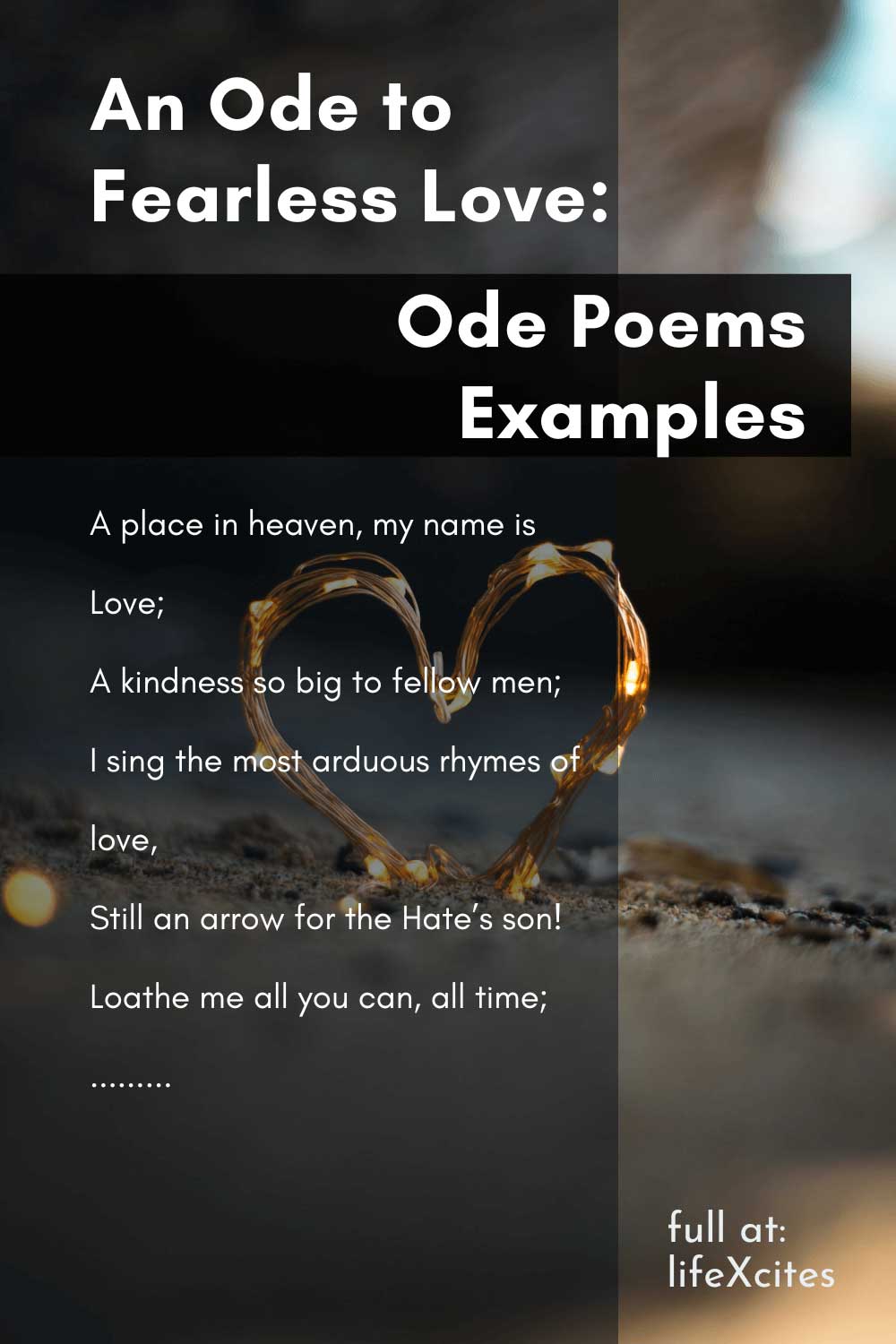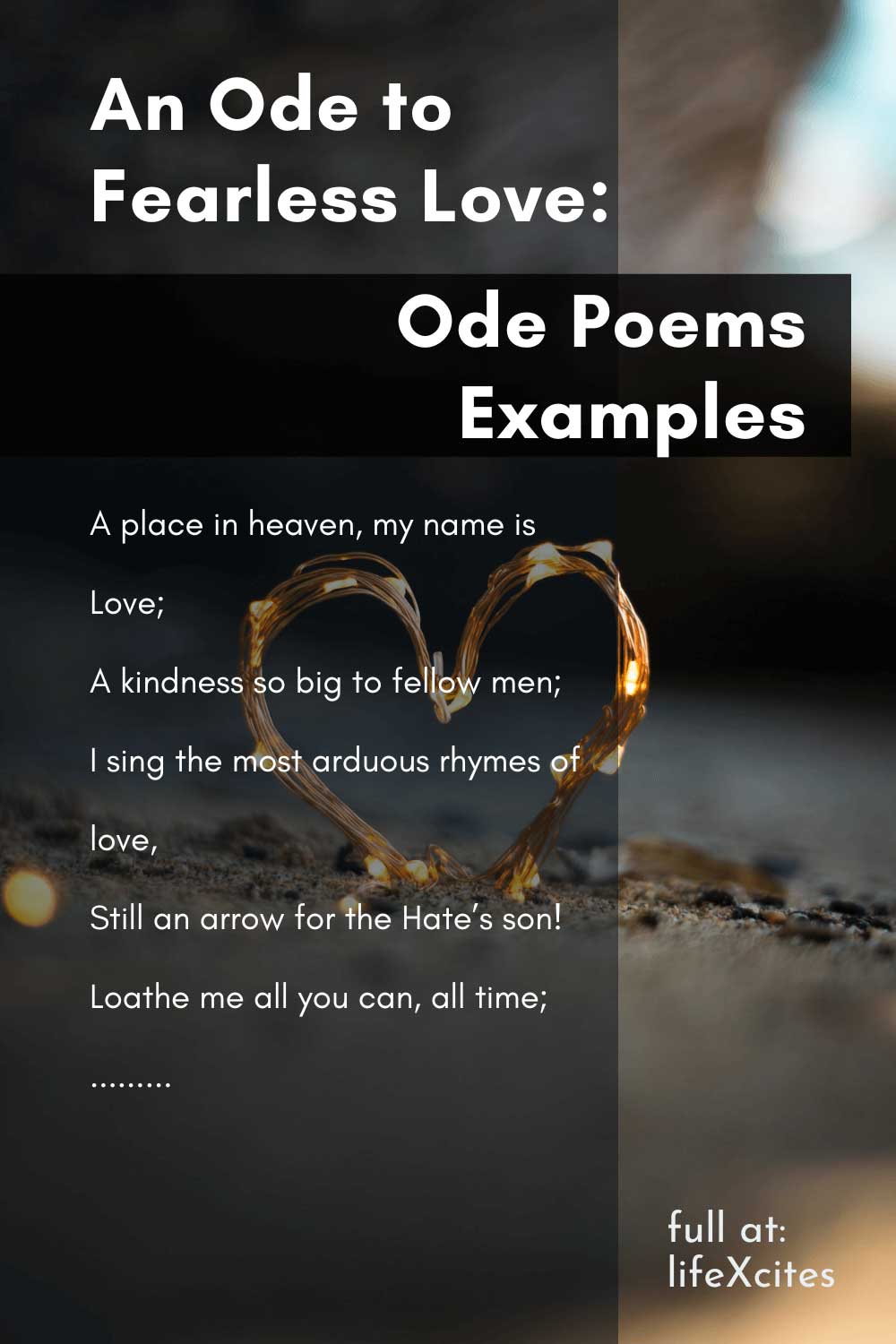 A place in heaven, my name is Love;

A kindness so big to fellow men;

I sing the most arduous rhymes of love,

Still an arrow for the Hate's son!

Loathe me all you can, all time;

Pour the purest wine, made by an old tribe

In an old valley; paint black, throw in the deepest well!

Hello world! I won't still let you down:

My name's Love, traces in the darkest hive;

I live to fulfill 'Thy Vow,' all times, all too too well!
Must Read: Dreamy Odes on a Butterfly and Ode Poem Examples
We hope you liked our post related to a cabin on the mountain. Do let us know about your experience in the comment section below. You can also vote.