The current post is an extension of the Happy Short Poems on My Kidneys – Part 1 to further the idea of bridging the knowledge gap about kidney health. It is a unique initiative to provide vital information about the organ kidney by means of short happy poems. Just to highlight, happy short poems of the mini-series 'My Kidneys' will span three parts. So, sit tight and enjoy. Don't forget to share too as it's a way to find a huge amount of satisfaction and happiness in life!
World Kidney Day 2022: Thursday, 10 March
The World Kidney Day Joint Steering Committee has declared 2022 to be the year of 'Kidney Health for All.' The wonderful campaign aims dissemination of information for better kidney care.
According to the website: 'Chronic kidney disease (CKD) is common and harmful: 1 out of 10 adult people worldwide have it, and if left untreated it can be deadly. While early detection allows for disease care and management to help prevent morbidity and mortality, and improve cost effectiveness and sustainability, kidney disease related mortality continues to increase yearly and is projected to be the 5th leading cause of death by 2040. A persistent and ongoing CKD knowledge gap exists, one that is demonstrable at all levels of healthcare.'
Now is the time to enjoy the happy short poem 'What Do Kidneys Do' while also enriching your knowledge about the many functions of kidneys.
What Do Kidneys Do: A Happy Short Poem
The kidneys are brave warriors,

Working 24 hours a day;

They are life-sustaining organs,

Performing many duties,

Including operation blood clean

To keep blood chemically balanced.

They remove toxic waste

Throughout the day,

Besides a number of other tasks:

Filtering the blood to remove

Waste products of body metabolism;

They indeed keep the electrolytes,

Mainly sodium and potassium, constant

As well the body's water content;

They also secrete many essential hormones

To keep body good and balanced.
Happy King, Ministers, Water, and Kidney: A Short Must-Read Story
Once upon a time, there lived a king, full of life and full of pride. He thoroughly loved happiness in life and good body health. One day, during an open court session with his ministerial panel, he asked questions about kidneys. Check out the below poem to find out what actually happened!
A Story of King, Water, and Kidney – A Happy Short Poem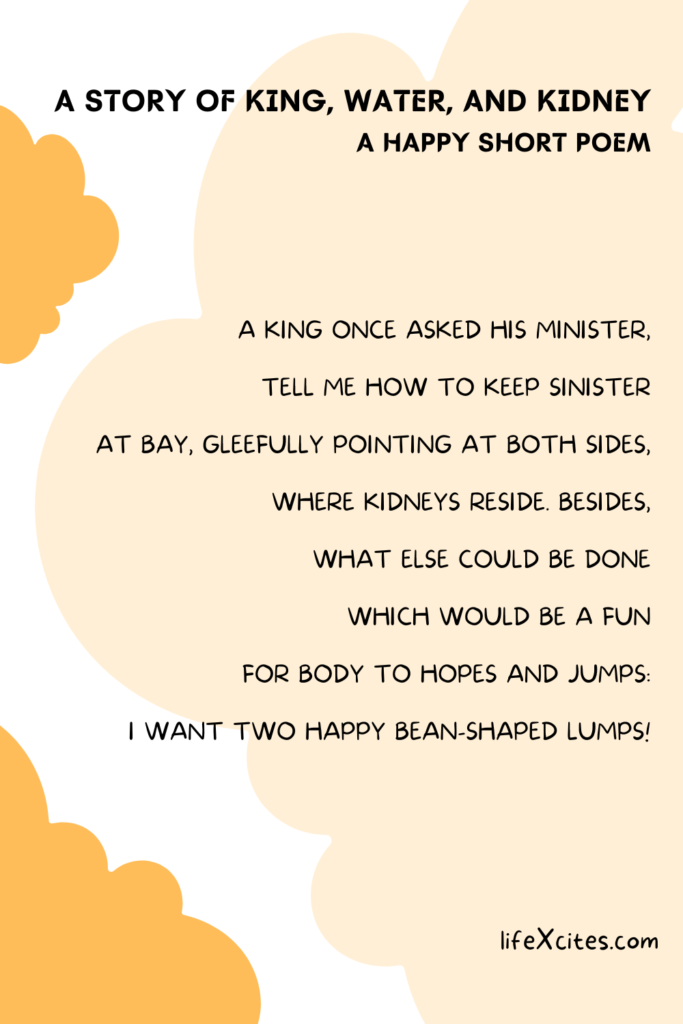 A king once asked his minister,

Tell me how to keep sinister

At bay, gleefully pointing at both sides,

Where kidneys reside. Besides,

What else could be done

Which would be a fun

For body to hopes and jumps:

I want two happy bean-shaped lumps!

The minister bowed,

And then he vowed

To drink plenty of water,

During the summer and winter.

He said: My glorious king

I must sing, I must sing,

My research showed at best,

Nothing works so wonderfully fast

Than daily exercise,

To health let's roll a dice!
Part 3 of Happy Short Poems on My Kidneys to continue…