'A death to cry, a sad poem to try' is a unique sad poem that will leave readers in dilemma and feeling inept!
As humans we are, we try to collect all happiness that could be found around and never or seldomly remember death in our day-to-day lives, even though death and grief are integral parts of all lives.
Essentially:
Yes! We all carry with us death notes,
Behind every happiness, sadness glows,
If there is a happy poem,
Then sure will be a sad poem!
Go ahead! Try not to think of death,
Keep saying, everything is OK! Death
Is but eternal,
Is surely eternal!
Death is True, a Sad Poem to Brew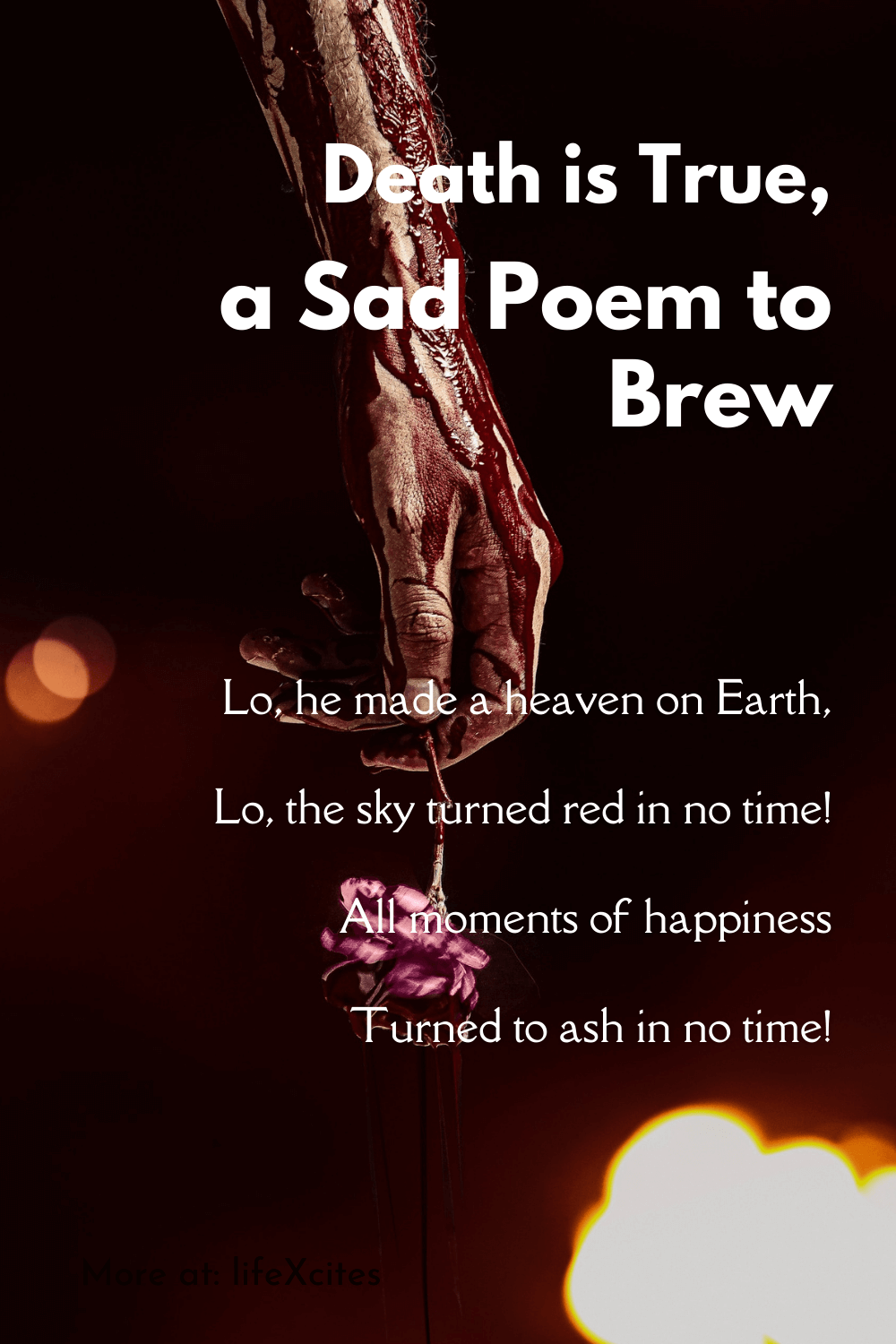 All religious souls and all nonbelievers know that death is true!
But still, why is that only a handful few note death is true?
Lo, he made a heaven on Earth,
Lo, the sky turned red in no time!
All moments of happiness
Turned to ash in no time!
Well, to the above question, answers are so many, often creating thin boundaries. So, we leave it to readers.
We are here to just say Death is True, a Sad Poem to Brew!
Given below is a sad poem kissing the boundaries of death!
A Death to Cry, a Sad Poem to Try: Part 1
A death to cry,

A sad poem to try,

A happy life failed

Like a train derailed;

The mirth was all around

Now sadness to be found.

Merrily, Merrily,

Strangely, strangely,

A summer to fall,

A tree standing tall

Cut to produce crops;

Now wondering it weeps!

A happy life,

A happy wife,

Happy children,

A drink in a can;

A bus to board

Too full to hoard

Passengers,

Fingers

Crossed, an accident to meet,

A fire and all died in heat!

The cries of death,

The sound of broken mirth,

Skulls to crack,

No one to look

And save.

'Please have

Faith,' the life, in hope, cried,

'The flames will soon be tired.'

Now, left just ashes and black bones,

Now, photos on walls made of stories!
Check out this space for the amazing Part 2 of this sad poem. Until then, try our other unique pieces of sad poem under the section Poetry Dock of Sad Poetry.
Children of God: A Micro Sad Poem
Indeed, as life goes on and on,
Death chases us, its resolve strong!
Life is no doubt the child of God,
Death but too is the child of God!