Ancient love poetry portrays old but interesting tales and as such readers are bound to them like bees to honey. A fine amalgamation of love and ancient god, and narrated in the form of poetry, it is also bound to captivate the imagination of readers.
This is the first part of Ancient Love Poetry: God Zeus and A Guy that is going to leave a good mark on those who love to read ancient love poetry.
The poetic story narrates a nice happy guy with a family. He is happy with his life and everything is running smoothly and sound. However, one day when God Zeus was flying across, he saw a little but beautiful village that was not in any way less than the superfluous happy short poems. The village was surrounded by greenery and flower beds and was located just next to a water stream. God Zeus was quite impressed and decided to make a visit to the village and meet its inhabitants.
Below is the first reporting of the ancient love story that tells how beautiful the setting of the village was. So read and fall in love with the beautiful village with full round life and ample fine tunes.
Ancient Love Poetry: God Zeus and A Guy: The Beautiful Village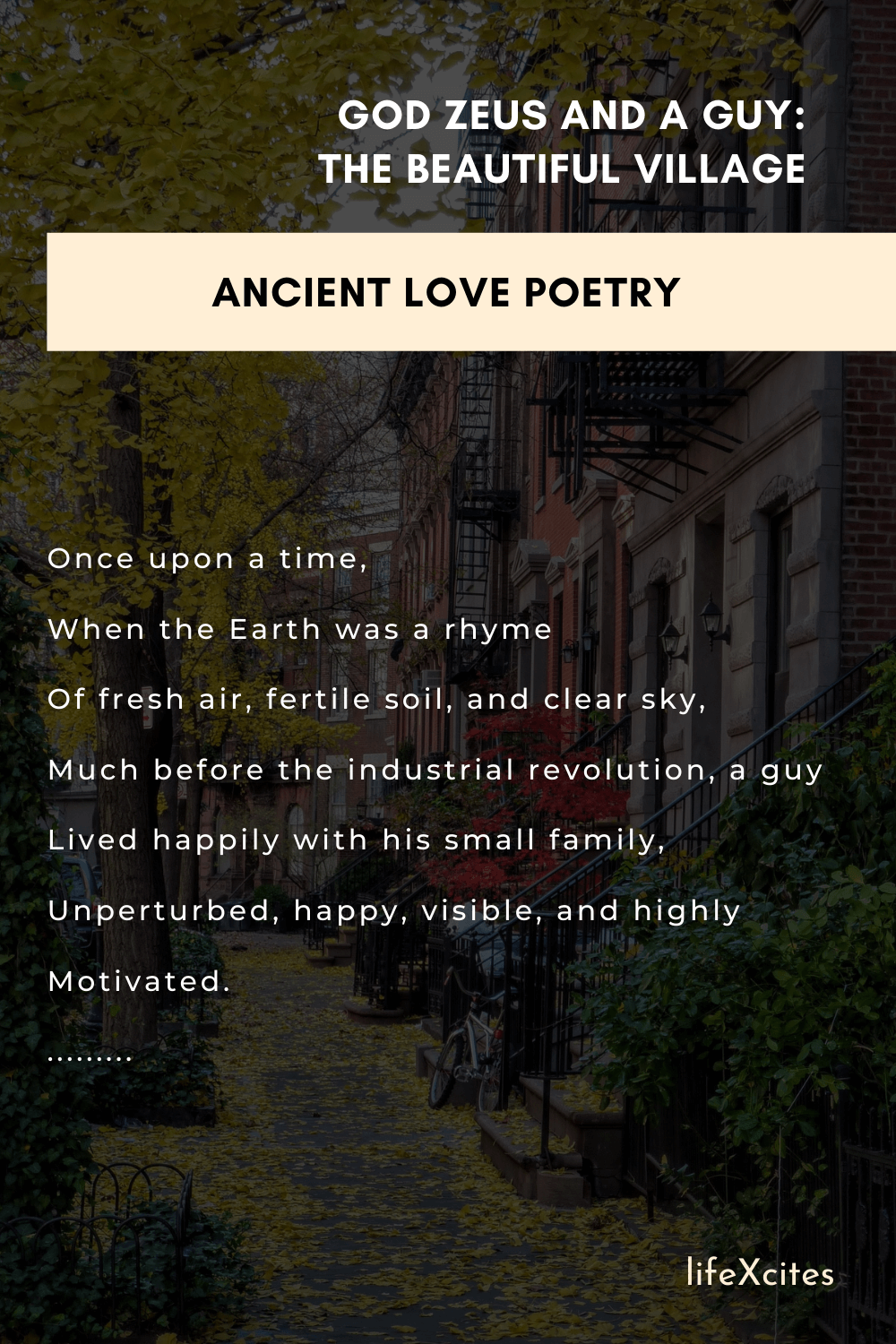 Once upon a time,

When the Earth was a rhyme

Of fresh air, fertile soil, and clear sky,

Much before the industrial revolution, a guy

Lived happily with his small family,

Unperturbed, happy, visible, and highly

Motivated.

He had

Two sons and a lovely daughter.

One day God Zeus visited there.

The village was fine,

Pure as grape wine,

Surrounded by flowers and hives,

Indeed, ample flora and ample lives:

Happy butterflies, happy bees,

The breeze played with big trees,

The songs of birds, the eco of showers,

The humming of cuckoo bird and the tunes

Of common nightingale,

And rain played solo to never fail

Bewitching inhabitants of the village.

To top, a brook to engage

A pure village with a soul

Full of life and no hole!
This marks the happy end of Part 1, which is more like an introduction to waves of greenery and beautiful surroundings that will make major inroads into the heart of readers.
Watch out for this ancient love poetry space for the Part 2 of the story never heard before!