Alone when you grieve and a sad poem to read, for there are things beyond your control; how could you win those never foreseen.
Bolts of Thunder, Where to Go Wonder: A Shock of Sad Poem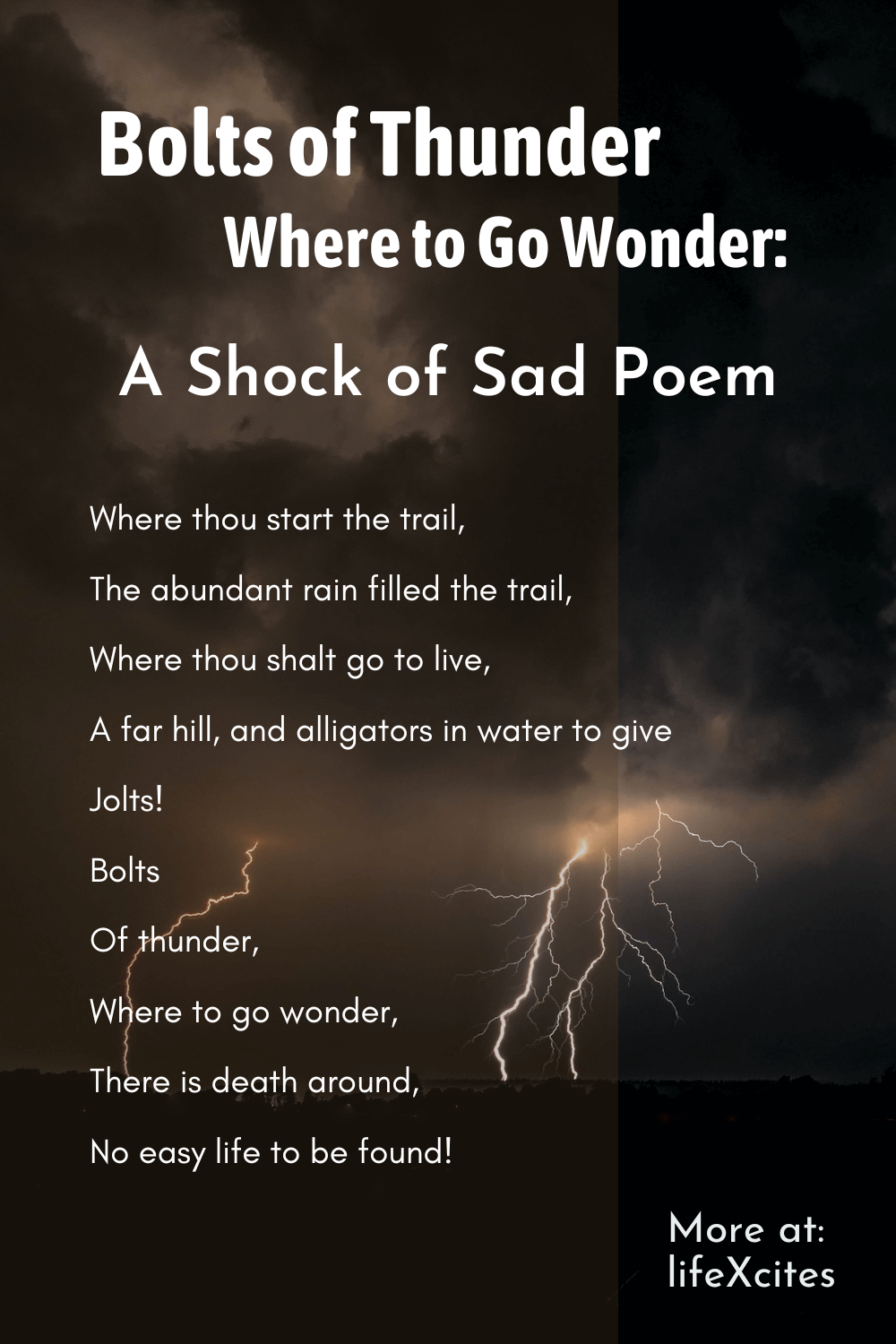 Where thou start the trail,

The abundant rain filled the trail,

Where thou shalt go to live,

A far hill, and alligators in water to give

Jolts!

Bolts

Of thunder,

Where to go wonder,

There is death around,

No easy life to be found!
The Incident: Goa, Airplane, and a Grim-Faced Couple
I was traveling to Goa to attend my friend's marriage. I took a budget flight ticket and boarded the flight on time. On my left, a bald man in mid-40s sat who was busy listening to music. He occupied the window seat. 
On my right a couple sat. The lady looked sad and tense as her husband tried to comfort her again and again. She was not crying, but it appeared to me that tears were fully ready to roll down in a matter of seconds, but this wasn't the case.
The husband was grim-faced, and while I couldn't stop looking at the lady, he saw me multiple times. But he didn't say anything. But the fact remains, he wanted to communicate. What? I would never know now?
I decided not to initiate any conversation. Afterall, I was going for a happy celebration, but even after a month, their faces haunt me. So, I decided to write my feelings on a piece of paper and it was a sad poem to read.

Now is the time to read 'The Truth – A Micro Sad Poem' and 'Disease Never Gone – A Short Sad Poem.' Enjoy!
The Truth – A Micro Sad Poem
(The following short sad poem tells the truth that sadness will stay.)
Rejoice! Men would laugh

And women would laugh,

But they are unknown what

Comes next; there will a show that

Would keep smiles and cries

At their feeble toes!
Disease Never Gone – A Short Sad Poem
(Do you recall your glorious young days? Did you ever fall ill? The following sad poem touches realms of both diseases and sadness! Find out!)
Thou must feel happy

That the disease gone,

Thou must think

It came back so soon.

Thou a young man

And in no time an old man;

Thou must vanish in mirror,

But the disease will stay here

To haunt many more,

To test many more!
Both sad poem and happy poems go hand in hand, meaning that there would be both happy and sad moments in anyone's life. 
Every life is different but we are touched by the invisible hands of both happiness and sadness. So, while happy poems are there, the scope of a sad poem will exist too!
Below, we provide yet another sad poem to satisfy your hunger for more!
Happiness and sadness two hands to balance out men and women

Happy poems and sad poem to stay in the world. The least we can

Do is to graciously accept them:

Happy and bad omens to come!