The world needs a sad poem to reflect itself, and people individually need a sad poem to share their feelings of being sad!
A Sad Poem Recall
(A very short sad poem to find the lost enthusiasm!)
A sad poem to wear,

A sad poem to heal,

A sad poem to feel

And find the lost zeal!
Must also: The Story of a Lost Bride and Her Insane Lover: A Sad Poem
Ends of the World and Sad Poem Meet Again
The world is indeed big and the circle of influence of sadness is also big. At any time, there will be numerous people undergoing hardships, sufferings, and so on.
There will be widespread sadness that will linger on and on, in which the lives of people are getting impacted in possibly more than one way. Similarly, there will always be people searching for the best sad poem to relate their life to, in order to experience the joy of sharing sadness as well as a way of finding motivation.
Below, there is a collection of 5 best pieces of sad poem to read in one go. Each sad poem represents a completely different mood. The topics in each sad poem are neat and there is something about these sad poems that readers won't be able to dismiss as just facts!
Must also: Suicide! Poetry Suicide! But Never Suicide: Part 1
(1) So Many Lies Told, So Many Faced: A Sad Poem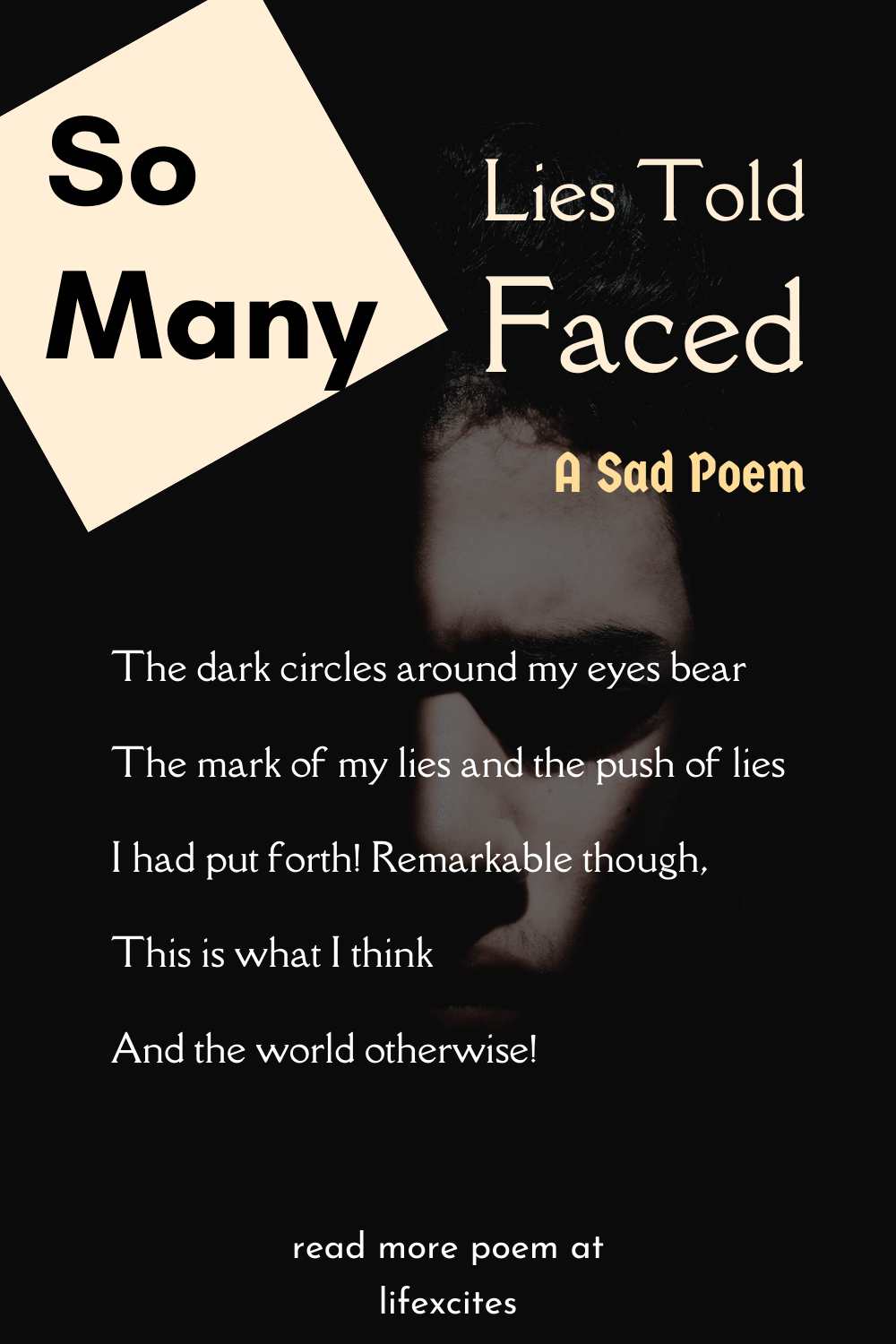 (The following sad poem is a reflection of inner principles.)
The dark circles around my eyes bear

The mark of my lies and the push of lies

I had put forth! Remarkable though,

This is what I think

And the world otherwise!

A beautician told me,

It is a mark of less sleep,

Another one, the lack of a good diet,

And a doctor cheerfully wrote a prescription!

But, within myself, I drown

In so many lies told and so many lies faced.

Fascinating though is, I stressed out due to lies,

But the world thought otherwise!
Must also: Poems about Pain to Follow for Those Who are Hollow!
(2) A Slave Who Gave a Poet: A Sad Poem
(How can a slave give a poet to the world? Interpret even more!)
A hot day, the sun bright and yellow,

A sign of glory to behold and beware of too!

A slave in a mine, with hardly any smiles,

Moved too slow but surely,

The log of wood to be carried to the other side,

Where many worked without wondering.

Why did they not wonder?

So long after I survived, a child of one,

I though wonder?

My creator was a wonderful man

Who never lost the hope,

The hope must linger on,

Through thick and thin,

There is no win, but a journey to be taken!

Remember the world!

I am a son of a slave who wondered;

I am a slave of my inner thoughts, a poet,

Given by a slave,

And now must I reflect all, all my life!

There is no respite, but I got to find one to survive!
Read also: All Bad Things to Come – A Sad Poem
(3) O Holy Jesus: A Short Sad Poem with an Intent
(What would you rather say to Jesus to lessen your pain!)
O holy Jesus, my cries are worthless,

My sufferings so small,

But still, I pray for a soothing heart;

Give me peace, give me hope,

Give me a piece of thy glorious tear,

Which fell, so many drowned and vanished!

I am in pain, I am all alone,

I wonder, the sadness like a sun, which shone

All day, makes so many marks to bear.

A tear in thy picture makes me bold,

In total embarrassment, I tend to fold.

I must stop counting my sad marks

And all stories

Too,

He is some who

Raised hands for all.

You saved them,

Now thy name saved me from falling down,

I must stop searching for my lost crown!

O holy Christ,

Thou wonderful art,

Has blessed me in ways untold,

Let the world shine with stories never told!
Read also: Death to Cry, Sad Poem to Try: Part 2
(4) A Dream with Many Dreams: A Sad Poem
(Have you ever watched a sci-fi movie? Share what you think about the below sad poem where the poet is struggling with his identity. There is a curtain on his life, and what he thinks he is, he ain't!)
Ever had a dream with many dreams?

This a world of uncountable possibilities,

The universe can be a computer simulation,

And the Earth a small part!

I think, I live a life of dreams,

Where so many dreams are shattered everyday

And so many rise from the grains of sand.

It may be possible too, someone other than God

Must be watching us, misguiding us,

Tormenting us, and keeping us under a giant illusion!

There is no key to it,

There is no way to verify it.

So, again I say, my whole life is a dream,

A sad dream, which I am trying to constantly amend,

Sometimes with success and sometimes with failures,

Sometimes with happiness and sometimes with sadness.

When my life doesn't belong to me, under a watch,

Then it must be a dream with many dreams,

Just yet we don't realize,

But it may materialize.
Must read: Best Sad Poetry | Wherever You Go, I Go Too, My Heart Aches For You!
(5) All About Appearances
(A sad poem touching the world of perceptions and appearances!)
Laugh to find a world,

Cry to find a lesser world,

Tears to follow many random tears;

On soul there are marks

Of wear and tear,

And the world might just laugh at you,

At who you are,

At who you would become!

The mirth is all gone,

The moment you visit a grave,

A lost friend, probably, who owed you big.

But what can be done,

The song on the hill to spread all around,

And echoes of losses made unbearable.

Sometimes, in a full hall,

I am lost, or just staring at a gorgeous lady

Dancing with a well-suited old man!

It must be the taxi,

The people might have seen it

While others came in limousines.

Or there must be other insecurities,

For the lady must hold pompous smiles.

Or still, I might not be the groomed man

With a shining suit and a tie?

But whatever it is,

I must hire only a taxi to leave the hall

And people will again smile,

Caressing their chosen thoughts.

Like a sad man, I must reach my room,

And sleep for another insignificant day!